Best free events in the UK - Festivals, Carnivals, Parades, Shows, Fireworks etc
A non-commercial listing of hundreds of amazing events - many free.
LA MACHINE - GIANT MECHANICAL SPIDER IN LIVERPOOL
La Machine invaded the streets of Liverpool with a £1.8m giant mechanical spider. The 50ft, 37 tonne piece of street art needed twelve drivers, and could expand, contract, walk at 4kph and even climb obstacles. Special effects included wind, noise and water. Pictures taken Sat 06 Sep 2008. Artichoke, Toynbee Studios, 28 Commercial Street, London, E1 6AB 020 7650 7611 artichoke@artichoke.uk.com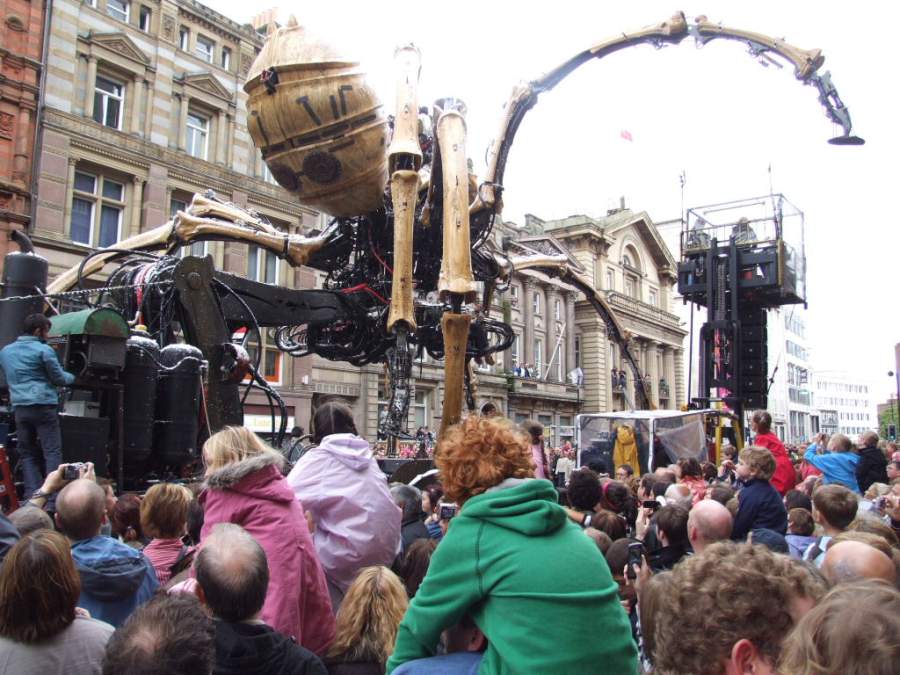 more: Video
more [external link]: La Machine, Liverpool
This website lists hundreds of events in the UK. Many make ideal family days out and holiday ideas, whilst others are more adventurous, colorful, exciting, and even eccentric or quirky. We include carnivals and parades, firework displays, music festivals, county agricultural shows, pet shows, village fates, sporting events, air shows, boat shows and many charity events. You will find event descriptions, dates, times and locations, and links to further information - blue for external information, red for internal pages with event descriptions and photographs. The main page lists brief descriptions of events in date order for the year ahead. If you would like your event considered for inclusion, please see the contacts page.